4 lessons and other tips from the co-founder and CMO of Flatbread Grill.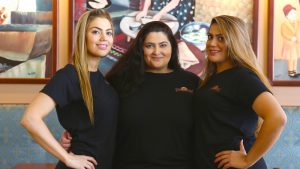 Give An Ovation is the number one resource for ad-free, bite-sized interviews with restaurant experts. For advice on how to build your brand, hire better, navigate COVID-19, and more, SUBSCRIBE! Available on all major podcasting sites.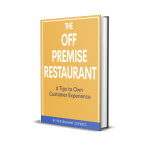 FREE eBook: The Off-Premise Restaurant
6 Tips from experts to find the "new normal" and own your customers
Gonca Esendemir is the real deal! She is a co-founder and the Chief Marketing Officer of Flatbread Grill, a fresh casual Mediterranean bakery based in New Jersey. Flatbread was started by Gonca and her two sisters and has gone on to experience wild success and press attention from the New York Times, Inc. Magazine, and others.
On this episode of Give an Ovation she tells her story and gives some thoughts on the "next normal" of the restaurant industry. Here's a few brief takeaways:
1. Adapt To Your Audience, But Keep Your Soul
In 2007, Gonca and her sisters knew any restaurant they opened needed to be fresh and appealing, but they also wanted to tie in their Turkish heritage. Traditional Turkish restaurants aren't super accessible in the United States, so they combined elements of fast casual and their Turkish menus to create the roaring success that is now Flatbread Grill.
2. Have A Strong "Why"
Flatbread Grill started as a way to pay for Gonca's father's medical procedures. As Victor Frankl said, "the man who knows his why can bear any how." Inspirationally, the love of their father helped Gonca and her sisters push through the inevitable challenges of entrepreneurship and got them to where they are today.
3. Fresh Is Here To Stay
Gonca noted that in 2007, fresh food wasn't as trendy as it is today, which is partially what set apart Flatbread Grill. Now, however, "customers discriminate a lot more on the quality of food… There is no compromising on quality anymore. You can't be mediocre and survive."
4. "3rd Party Is Not The Enemy"
The quote is Zack's, and it's practically his catch phrase by this point. He and Gonca discussed the many irritations, unfilled potential, and downsides of 3rd party while also acknowledging the good things it can do for a brand.
———————————————————————————————————————–
Thanks for reading! Make sure to check out the whole podcast, as well as other interviews with restaurant/business gurus by checking out "Give an Ovation" on podcast.ovationup.com, or your favorite place to listen to podcasts. Thank you Gonca!
For more from Gonca, visit her LinkedIn, Instagram ("only if you like bright colors, books, and plants"), or visit flatbreadgrill.com.
Subscribe To Our Newsletter
Get updates and learn from the best