"Don't look at delivery as an evil part of the business."

Give An Ovation is the number one resource for ad-free, bite-sized interviews with restaurant experts. For advice on how to build your brand, hire better, navigate COVID-19, and more, SUBSCRIBE! Available on all major podcasting sites: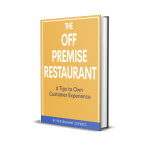 FREE eBook: The Off-Premise Restaurant
6 Tips from experts to find the "new normal" and own your customers
Michael Rolland is one of the amazing co-founders of Lodel, a delivery platform for local business and niche markets. He's also the host of "Bootstrapped: In The Trenches", a podcast that gives listeners a peek into the life of entrepreneurs. (Look out for an episode with Ovation's Zack Oates!)
Michael came on this edition of Give An Ovation to talk delivery, Lodel, and more! You should really listen to the whole podcast, but here's some brief takeaways:
1. Delivery Is Here To Stay
Because people are creatures of habits, Michael expects delivery to stay big even after this pandemic is over. Most consumers have gotten used to the convenience factor.
2. The Demographics Are Shifting
College students were the majority of Lodel's customers before the corona virus hit. Now they're seeing older people and families transition to delivery because they are working from home, don't want to go to the grocery store, etc.
3. Find Delivery Companies That Will Partner With You
Lodel is on the restaurateur's side. They care about restaurant profits, and charge less than the bigger players in the industry. As Michael put it, they are a family-owned business that doesn't have boards of directors and venture capitalist to report to, so they're better fit to truly partner with restaurants.
4. Be Accountable And Quick
If you're running your own delivery (which Lodel can help with), communication and speed were Michael's top tips. Customers need to know the status of their order – like if it will be late. And a good rule of thumb is to deliver within 40 minutes. Customers typically get hangry after that point.
5. Delivery Is Not The Enemy
"Don't look at delivery as an evil part of the business. Look at it as a way to profit and actually make it a great pillar of your ongoing business. It allows you to build up more market share and a customer base." -Michael Rolland
———————————————————————————————————————–
Thanks for reading! Make sure to check out the whole podcast, as well as other interviews with restaurant/business gurus by checking out "Give an Ovation" on podcast.ovationup.com, or your favorite place to listen to podcasts. Thanks Michael!
For More From Michael and Lodel:
Subscribe To Our Newsletter
Get updates and learn from the best